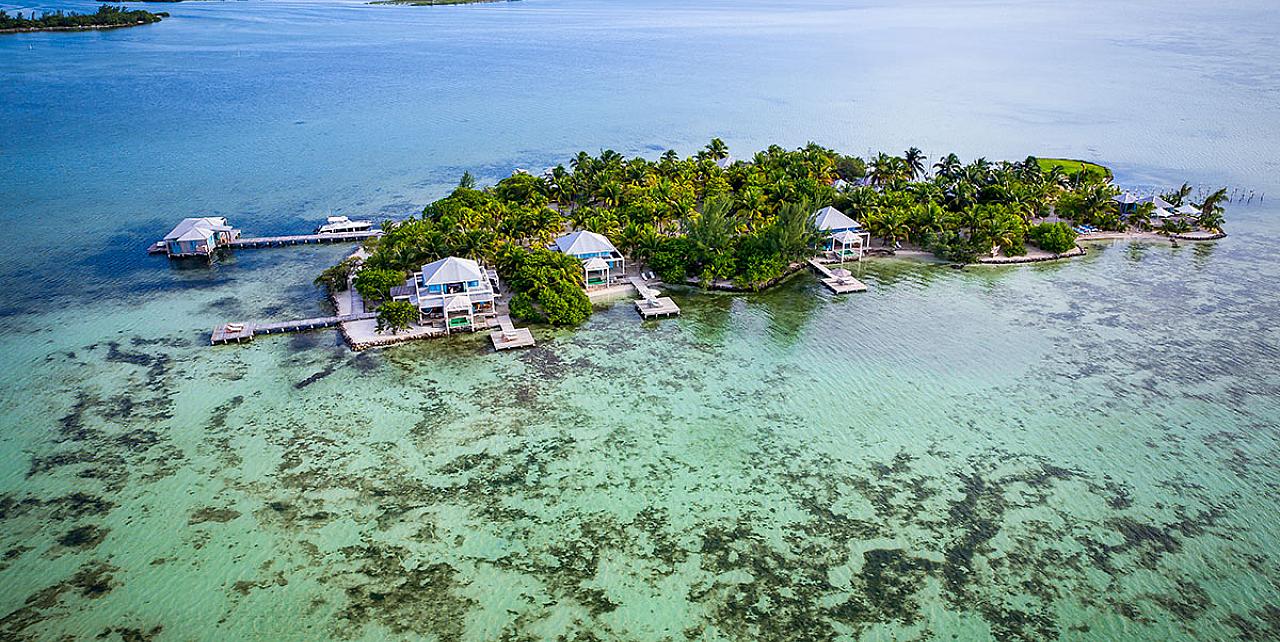 Add to Favourites
Plan Your Trip
HAVE QUESTIONS?
USA/CANADA: +1 347 707 1195
BARBADOS: +246-432-6307
UK/INTERNATIONAL: +44 1978 368531
When you arrive at Cayo Espanto, your only worry will be where to relax first: in the plunge pool, at the water's edge, or on the twin lounge chairs at the end of your very own dock. No worries about jockeying for position on the sand; the seven beach villas are situated so that you may not see another guest for the duration of your stay. The villas located in Cayo Espanto are known as: Casa Olita, Casa Brisa, Casa Manana, Casa Solana, Casa Estrella, Casa Aurora and Casa Ventanas.
Casa Olita - Beach Villa
After gazing at equisite Caribbean vistas at your private dock, take a dip in your personal plunge pool or cool off in the alfresco showers. This villa is perfect for honeymoon couples, where you can toast to your honeymoon or simply embrace you loved one in the enchanting walled garden. The king size bed is dressed in Yves De Lormes sheets, and Zirocotte and Jobillo wood panelling and mosquito nettings are present within.
Casa Brisa - Beach Villa
Casa Brisa comes with a private plunge pool positioned in a private verandah, with beautiful views of the turquoise lagoon. You can spend your days soaking up the spectacular Caribbean vista from your very own private dock. You can choose between twin beds or one king size bed in this secluded hideaway, which also features Yves De Lormes sheets, cabbage bark ceilings, mosquito netting, large Santa Rosa verandahs and a private dock.
Casa Manana - Beach Villa
This beautiful ocean front villa comes complete with a private dock and personal plunge pool, where you can bask in well deserved royal treatment. Casa Manana has a luxurious king size bed with lavish Egyptian cotton sheets, which is positioned in the centre of the villa and surrounded by romantic mosquito netting and a 180 degree wrap-around view of the entire Caribbean.
Casa Solana - Beach Villa
Casa Solana is a new, one bedroom, ocean front bungalow secluded on the western tip of the island. Guests are invited to bask in the warm glow of Cayo Espanto's best sunsets. The bungalow's distinctive Caribbean architecture and chic island decor creates a refreshing and relaxing atmosphere for guests to unwind. There is also an expansive verandah, separate dining area, private infinity plunge pool and dock.
Casa Estrella - Beach Villa
This exquisite 2 storey, 2 bedroom, villa is situated in such a location that gazing at the sparkling Caribbean Sea from your second storey view is essential. The upstairs bedroom has an open-air design with hardwood floors. Downstairs, you can appreciate the 180 degree view of the Caribbean, with doors on three sides opening directly onto the sea. This beautiful beach villa also features a personal plunge pool, an alfresco shower, and a choice of twin or king size beds dressed in Yves De Lorne sheets
Casa Aurora - Beach Villa
This spacious, comfortable villa is perfect for the entire family. Choose between a family trip to your personal pool, the largest on the island, or serene moments in a hammock. You have the choice of twin beds or 2 king size beds all covered in Yves De Lorne sheets. There are 2 Caribbean ocean front bedrooms, each with sleek baths and personal decks.
Casa Ventanas - Bungalow
This 1 bedroom, over the water bungalow is designed in the same style as the other villas on the island. It is thoughfully appointed with every imaginable comfort, custom-crafted furnishings and amenities. This is the most intimate, romantic and most popular accomodation on the island. This bungalow is at the end of the dock that stretches over 150 feet off the island for ultimate privacy. Surrounded on all sides by the beautiful, turquoise Caribbean Sea, Casa Ventanas is a picture perfect window into the exotic water world of Belize.
See more details...
Amenities
Air Conditioned bedrooms
Air Conditioning
Beach Front
Ceiling Fans
DVD Player
Hair Dryer
Internet Access
iPod connection
Plunge Pool
Safe
Satellite TV
Short walk to beach
Telephone
TV
Wireless Internet
See more details...
Bedroom : 9
Bathroom : 9
Staff
Personal houseman
Full service staff
Housekeeping and complimentary laundry service
Rate
Rates on request.
Please call or message for rates, availability or further information.