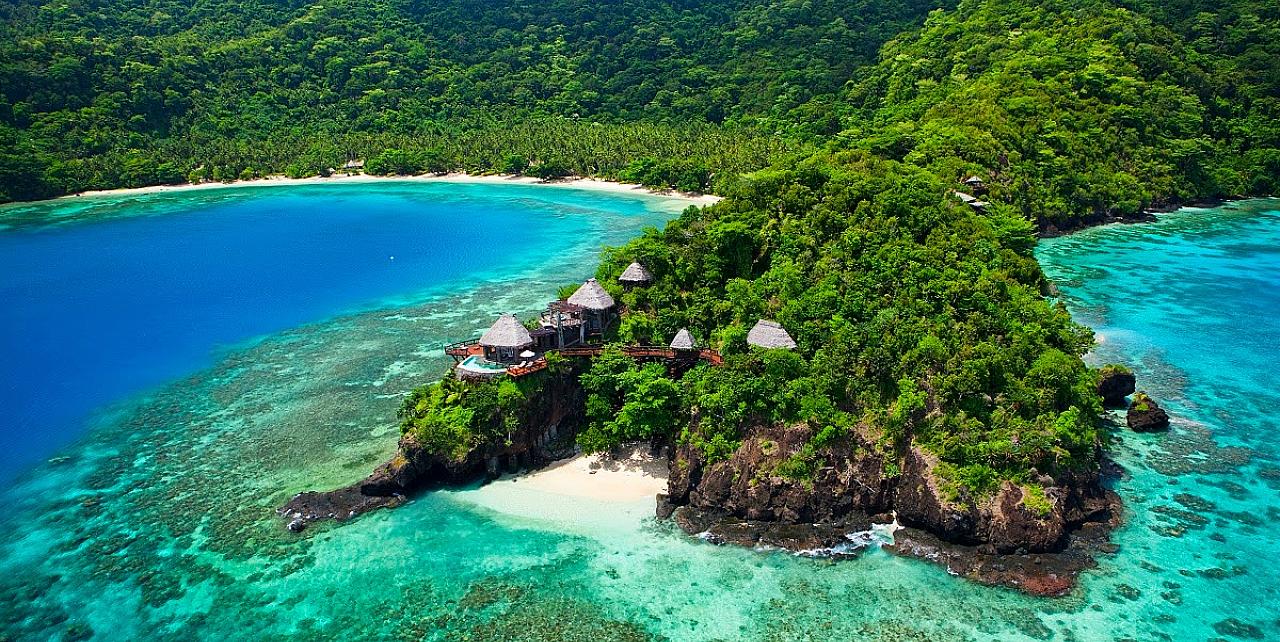 Add to Favourites
Plan Your Trip
HAVE QUESTIONS?
USA/CANADA: +1 347 707 1195
BARBADOS: +246-432-6307
UK/INTERNATIONAL: +44 1978 368531
Laucala is a private island refuge in the South Pacific. Laucala unites dramatic rainforest landscapes with white sandy beaches. It offers unparalleled levels of luxury and privacy.
No expense has been spared at this exclusive tropical hideaway. Here you will find 25 Fijian-styled villas set amid coconut plantations. They are located next to deserted beaches and atop the island's volcanic mountains. These beautiful villas overlook fertile coral reefs and endless jungle.
Style and sustainability go hand in hand throughout Laucala. From the natural fibres and wood used in design to the wild orchids harvested in gardens. Even the organic produce is grown on island farms.
Set over 1,400 hectares, Laucala epitomises seclusion and graceful hospitality. These are sought after qualities for which the Fijian archipelago is famed.
About Laucala Private Island
Laucala private island covers 12 square kilometres. It offers dramatic extremes in landscape. There are volcanic mountains covered in tropical rainforest and picture perfect beaches. Untouched mangroves and coral reefs brim with marine life.
The Laucala resort sits on the island's northern coast. It covers just 4.5 square kilometres. This means that the vast majority of the land is an unspoiled wilderness. It is made up of jungle and coconut plantations. Laucala is home to some of the archipelago's rarest birds and animals.

Laucala has tapped into the island's lush natural bounty. A number of organic farms and gardens have been established. These produce fruit, vegetables, herbs and meat for resort restaurants. Flowers and spices are also cultivated for the spa.
The sustainable approach to resort living guarantees flavourful food. It also provides memorable spa treatments. It also ensures that guests leave with a genuine insight into Fijian culture.
The Accommodation
Laucala's 25 villas are all glamorous versions of traditional Fijian dwellings. Each villa offers unparalleled exclusivity and privacy. All of the villas are located in dramatic, very different, locations. They are situated around the northern coast of the island.
Eleven Plantation villas are set amid a coconut grove beside a private beach. Four Plateau villas perch atop Nawi Mountain at the heart of the island. This is ringed by rainforest and offers unbroken views of the sea.
Seven Seagrass villas line a powder-white beach.
The Peninsula villa hugs a cliff and crescent-shaped beach.
The Overwater villa is set above an emerald-green lagoon.
The Hilltop Estate sits at one of the island's highest points. It commands views of the Fijian archipelago.

Regardless of their location, all villas are designed with soft curves and free-flowing shapes. Natural materials have been used in their construction. There are thatched roofs made from the leaves of sago palms and local doga timber. They also use bala bala fern stems and a traditional coconut husk weave known as magi magi.
Impeccably furnished bedroom and living areas open to private gardens. Each has an infinity-edge poo. This is lit by Tikki torches at dusk. Villas come with a buggy so guests are free to explore the resort at their leisure.
Dining
There is a collection of five restaurants and bars. These offer everything from beachside barbeques to fine dining. Many of the buildings are inspired by nature.
Plantation House occupies an airy replica colonial mansion. Here you may enjoy fine-dining. There is also a bar complemented by a thoughtfully-selected premium wine list.
Alfresco meals are available at Seagrass Lounge and Restaurant. These specialise in Asian and Fijian favourites.
The Beach Bar is all about casual barbeques beside the water. Share plates of Mediterranean-style fare. This is served at the Pool Bar. The Pool Bar is located beside Laucala's 2.000 square meter lagoon style swimming pool.
The Rock Lounge features open-air dining above Seagrass Bay. Finger food and cocktails are the order of the day.

Laucala also offers dining by design. You can enjoy customised menus in private dining locations . Dine amid the jungle, along a jetty or in your villa.
Activities
Laucala's diversions range from relaxing to adventurous. A wide variety of watersports introduce guests to Fiji's azure oceans. There are also rainforest walking tours to enjoy. You may also farm visits. Horseback riding is an exhilarating way to explore the island. There is excellent golf.
The island's Water Sports Centre is home to a fleet of 14 boats. These include the Riviera Open Flybridge for game fishing. There are also Dragon sailboats and traditional Fijian outriggers. These are ideal for sunset cruises or archipelago discovery.
Windsurfing, kitesurfing and kayaking can be arranged with the Water Sports Centre. Jet-skis are also available.
Arguably the best way to explore Fiji's marine offerings is by taking the plunge. Laucala offers snorkelling equipment and a PADI certified Dive Centre. Guests can get up close and personal with hawksbill turtles and angelfish.

Guests have access to eight immaculately groomed Fijian horses. These make the perfect steeds from which to experience Laucala's beaches, plantations and hinterland.
Guided walking tours also lead guests to far-flung corners of the island. Visits to a Cultural Village can be arranged. Here you may enjoy Fijian arts, crafts and traditions. You may also like to visit Laucala's organic farms and gardens.

An island highlight is the 18-hole championship golf course. This has been thoughtfully designed by David McLay Kidd. It has spectacular greens and fairways overlooking the Pacific Ocean.

Closer to the resort the Kids Club caters to children of all ages. It offers fun, educational and informative activities under the watchful supervision of trained staff.
Golf
Scotsman David McLay Kidd was called in to design Laucala's championship golf course. It is a stunning 18-hole layout backdropped by volcanic mountains. These cling to a sheer cliff dropping into the Pacific Ocean.
Kidd's par-72 layout has been thoughtfully integrated into the environment. It has minimal impact on the island's old coconut plantation area. Undulating fairways, challenging greens and strategic bunkers will appeal to both experienced and novice golfer. Signature holes include the par-five 12th. This has a green extending to the beachn Be ready for wet feet at high tide.

A golfing professional is on hand should guests need tips. Caddies, buggies and clubs are all available in the Club House.
Spa & Wellness
Few spa experiences rival that at Laucala. Traditional Fijian therapies, organic amenities and serene settings go hand in hand.
There are four treatment villas. Each has an outdoor tub, relaxation room and changing room. There are also two wet rooms with Vichy showers and steam facilities. These sit amid water features and tall palm trees. The spas offer a beauty salon, manicure and pedicure rooms and the Spa Garden.
It is here that herbs, spices, flowers and fruits are picked to create Laucala's four signature scents. Molikaro (native citrus), Wainimate (medicinal herbs), Senikau (tropical blooms) and Qele (indigenous roots, woods and spices). Each scent is incorporated into the spa's organic amenities and lotions. They are also included in massage oils used in spa rituals.

Treatments begin in a relaxation lounge fitted with day beds and an open fireplace. These are followed by a footbath incorporating a hibiscus, honey and sugar-crystal polish. This is followed by a gentle massage. Signature experiences range from Fijian hot-and-cold stone therapy to body scrubs. The body scrubs use volcanic soil from the island and mineral crystal therapy.

Guests are encouraged to become involved in the spa experience through the Spa Garden. Here an interactive display informs about Fiji's tropical bounty. Guests can pick their own spices, herbs flowers and fruits. These include vanilla, lemongrass, cinnamon, nutmeg and coffee. There is also ylang ylang, pepper and ginger. Guests create a signature essential oil, soap or lotion in the Spa Kitchen. Here a coconut press produces oil in small batches.
Laucala is a small piece of paradise. A wonderful place to escape, relax and unwind.
If you are interested in a holiday in Laucal contact us today.
For other luxury holidays throughout the world visit worldwidedreamvillas.com
See more details...
Amenities
Air Conditioned bedrooms
Air Conditioning
Bar
BBQ
Beach Front
Beauty Salon
Boat with driver
Ceiling Fans
Children Welcome
Childrens Activities
Cinema
Golf (nearby)
Golf Cart
Infinity edge pool
Private Pool
Restaurant
Safe
Satellite TV
Sea view
Shop
Spa Wellness Suite
Sunbeds
WaterSports
Wireless Internet
See more details...
Bedroom : 1 - 3
Bedroom Types : King,Queen
Bathroom : 1 - 3
Staff
Chef
Concierge
Gardener
Gardener / Night Watchman
House keeper
Maid
Security
Rate
Rates on request.
Please call or message for rates, availability or further information
Location
Getting to Laucala Island, one of a string of landfalls dotting Fiji's Koro Sea, offers guests a taste of the faultless service to come at the resort.

Private aircraft are permitted to land on Laucala, with international procedures such as customs and immigration clearance organised on- island by request. Laucala Island's private airport operates day and night, with the concrete airstrip suitable for jets with a maximum 40 t MTOW (aircraft type Falcon 900).

Upon arrival at the Nadi International Airport, guest relations will drive travellers to the private Laucala Nadi Lounge. Travellers will be transferred from Nadi to Laucala Island via the resort's King Air B200 for 50 minutes comfortable flight.