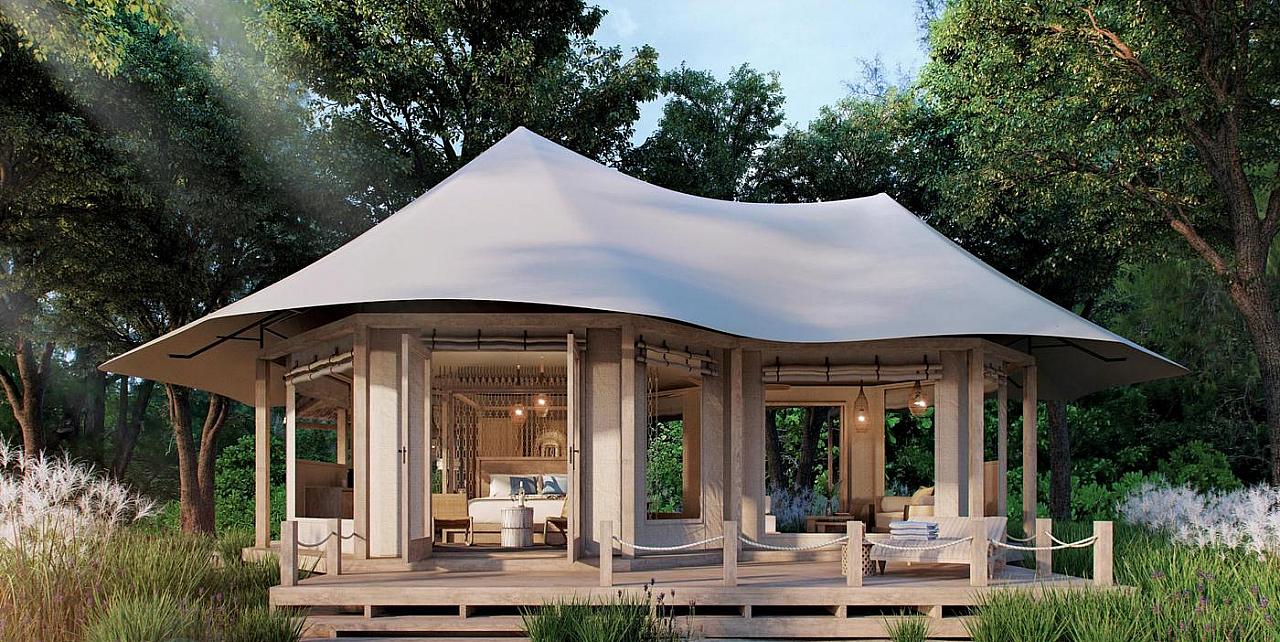 Add to Favourites
Plan Your Trip
HAVE QUESTIONS?
USA/CANADA: +1 347 707 1195
BARBADOS: +246-432-6307
UK/INTERNATIONAL: +44 1978 368531
Wa Ale Island Resort is a privately owned eco-tourism project on the island of Wa Ale which is situated in the Lampi Marine National Park within the Mergui Archipelago, 55 nautical miles from the town of Kawthaung. The resort features 11 Luxury Tented Beach Villas and 3 Luxury Tree-Top Villas, all of which have private bathrooms and have been designed to blend into the lush tropical beach environment. Stunningly designed, every villa has unobstructed ocean views and maximum cross ventilation. Each beautiful family sized beach villa can accommodate up to 4 guests and intimate treetop villas can comfortably accommodate 2. Dining takes place in an open air pavilion with a view of the ocean and a menu that offers a variety of Asian and Western dishes.
Other facilities include the River Café & Bar and a Spa. Activities on the island include jungle walks, kayaking, paddle boarding, snorkelling and diving. Guests can also enjoy the Turtle Sanctuary & Island Conservation Centre.
RATES INCLUDE:
• Full Board – B/L/D
• Boat transfer to and from Wa Ale Island on Saturdays and Tuesdays
• Transfer to and from Kawthaung Airport to Kawthaung Jetty on Saturday and Tuesday
• House wine, beer and non-alcoholic beverages: which include sodas, juices, coffee and tea
• Internet
• Room amenities
• Non-motorized and land based activities (paddle boarding, kayaking, snorkeling, jungle hikes and cultural visits)
• VAT included
RATES EXCLUDE:
• Premium Wines, Liquor and Champagne
• Scuba Diving
• Spa Treatments
• Special Private Boat Transfer outside of Saturday and Tuesday ( at an extra charge - includes transport to and from Kawthaung Airport)
• Telephone charges
• Conservation donations
• Gratuities
New at Wa Ale
Private two-bedroom BEACH HOUSE located on the 1km-long Honeymoon Beach.
• 1500-fish MARI-CULTURE FARM (aquaculture in the open sea). This sustainable mari-culture will feed guests and staff organic local fish throughout the season. (Wa Ale does not purchase from illegal fishing vessels.)
• Large ORGANIC FARM of 5 greenhouses to support most of the island's produce. Guests are invited to visit the gardens and mari-culture area.
• New CONSERVATION CENTRE and observation deck nestled in the jungle, is a great place to view birdlife in their natural habitat.
Two new world class DIVE SITES, including the famous Burma Banks. Explore Black Rock and Burma Banks and still be home for dinner. These sites are only occasionally visited by live-aboard dive boats.
See more details...
Amenities
Air Conditioned bedrooms
Bar
Beach Front
Boat with driver
Ceiling Fans
Children Welcome
Communal Facilities
Well Equipped Kitchen
Gym/Fitness Room
Restaurant
Satellite TV
Sea view
Security Guard 24hrs
Shared Pool
Shop
Spa
Sunbeds
Telephone
WaterSports
Wireless Internet
See more details...
You can visit the Lampi Foundation which has been founded to help fund social welfare and conservation projects in and around the Lampi Marine National Park in the Myeik Archipelago.
Bedroom : 1 - 2
Bedroom Types : Double x 2
Luxury Treetop Villas - 1 bedroom (2 people)
Luxury Tented Beach Villas - 2 bedrooms (max. 4 people)
New Luxury Beach House with private beach - 2 bedrooms (max. 4 people)
Bathroom : 1 - 2
Rate
Rates on request.
Please call or message for rates, availability or further information