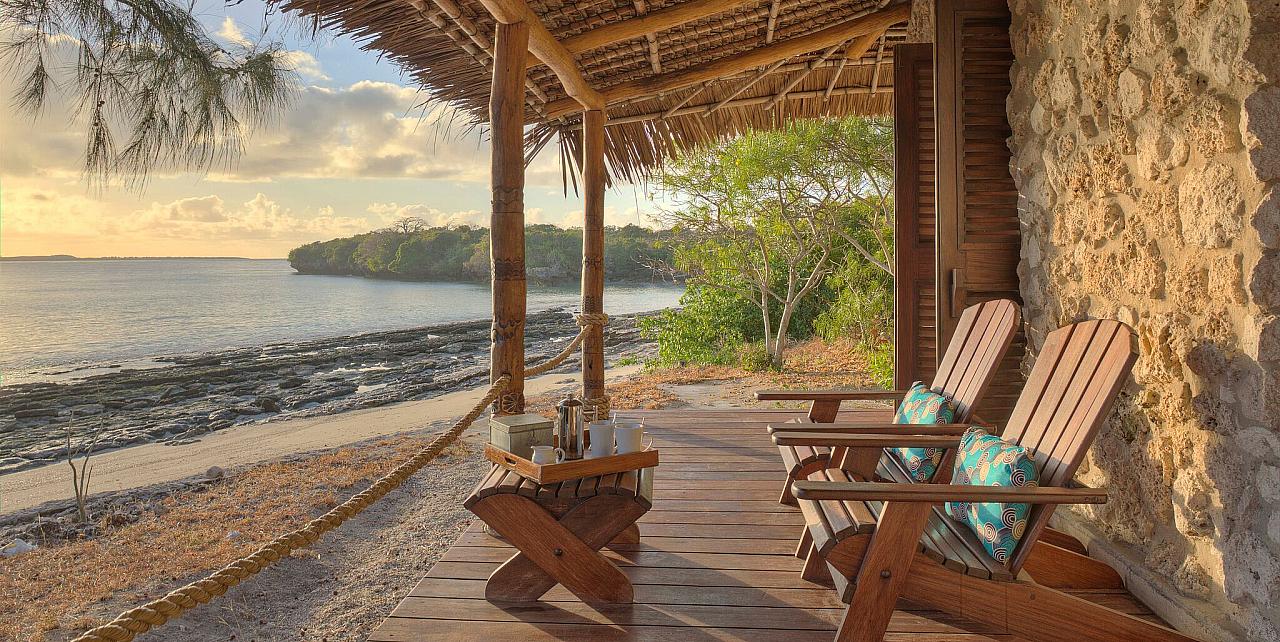 Azura Quilalea Private Island
Add to Favourites
Plan Your Trip
HAVE QUESTIONS?
UK : 0845-017-6707
USA/CANADA: +1 347 707 1195
BARBADOS: +246-432-6307
INTERNATIONAL: +44 1978 368531
Azura Quilalea Private Island is a hidden gem in the Indian Ocean, a private, wholly uninhabited island paradise surrounded by the pristine waters of the Quirimbas Archipelago marine sanctuary in Mozambique. The island offers 9 seafront villas, for maximum of eighteen guests each villa looks out to the beach and sea beyond. No telephones, no Ipod docks just barefoot luxury cooled by fans ( or a/c if you choose) , your own stocked mini fridge, a wooden pirate chest to keep your belongings in along with daybeds and sun-loungers on private decks to take full advantage of the wonderful uninterrupted views.This stunning 86 acre private island retreat, can be booked exclusively, and would be an ideal choice for a family gathering or group of friends.
The abundance of sea-life is truly spectacular, delight in snorkelling off the island's tranquil shores, dive from the main beach or explore some amazing dive sites in the surrounding waters, kayak the mangroves on the nearby sister island of Sencar. Sailing is available in a traditional Mozambican dhow, depending on the time of year catch a glimpse of the passing Humpback whales from July to November, the nesting turtles from November through to April, of dolphins are year-round visitors. There is also the opportunity to take part in some fantastic deep sea fishing. After a busy day unwind in a hammock beneath the giant baobabs and watch the sunset before enjoying a romantic candle-lit beach dinner. Enjoy an exclusive, beach picnic, maybe a walk around the island to the giant baobabs, finishing off with a treatment at the island's African Spa.
The 9 Seafront Villas : located steps from the beach , designed with privacy and relaxation in mind
There are 4 Kaskazi villas –50 sqm in villa, total area 75 sqm each with an open-plan and spacious layout, mini bar, bedroom can be twin or king, stylish interiors using local materials blending in perfectly with the island's natural beauty. The villas are air-conditioned or open up the windows and doors to let the cooling breezes pass through. The stunning white sandy beach is steps away or guests can bask in the sun on the private deck.
There are 4 Kusi Villas - 50 sqm in villa, total area 75 sqm
Beautifully designed, stunning location, each with spacious bathrooms, bedroom can be twin or king, natural, African interiors, mini bar, air-conditioning or allow the breeze to pass through. There isa also an additional outdoor shower and beach sala.
The Cliff-top Villa Quilalea (65 sqm in villa, total area 125 sqm) is set in its own secluded aspect of the island, offering immaculate whilst intimate accommodation perfect for couples and boasts magnificent views across the azure Sea, where dhows drift quietly by and at nightfall the setting sun creates a magical streak of glittering light across the water.
Sip cocktails on the villa's extended outdoor deck whilst watching the beauty of the sunset, or delight in an exquisite candlelit dinner within a private dining area at the edge of the sea. Alternatively luxuriate in your private infinity plunge pool
Access to the ocean from your own cliff top step-ladder, leading to a private alcove with a small beach at low tide, swimming and snorkelling at high tide. Such a wonderful place to discover the underwater world of Quilalea Private Island, Mozambique
This Private Island in Mozambique is the ultimate luxury hideaway in the Indian Ocean, an untouched haven for the discerning few to unwind, and forget their busy daily routine ( for a while at least !)
Azura Quilalea Private Island, Mozambique is the second luxury Indian Ocean Retreat from the Azura Retreats – see Azura Benguerra
The enthusiastic Azura team are waiting to welcome you. They take great pride in looking after guests and their priority to create memorable experiences every day - happy guests, become repeat guests!

Your Mozambican host in the villas take care of each guest, serve meals, set up table and chairs on the beach as required, serve a special cocktail (or 2) whilst you watch the sun disappear for the day.

The hosts aim is to suggest varied dining experiences so that guests dine in innovative settings – from the water's edge, on a sandy island or beneath the stars.
The chefs will chat and discuss your favourite foods, the water-sports will help you explore the marine life and the spa is there to unwind.
Each area accessible to all guests offers its own unique atmosphere from a hammock under the trees, the beachside bar, the TV room/informal lounge which has satellite TV and a laptop with internet access or the main swimming pool providing comfortable, day beds and umbrellas. Complimentary Wifi is available in the lounge, bar and pool deck area

There is an equipped Padi Dive and Water-sports Centre, Baobab reception and a Boutique offering local crafts for a keepsake as well as designer beachwear, if you forget something!

The Jellyfish Dining Room – a very laid back but enjoyable experience, open on all sides so trade winds keep you cool with delicious menus created from local produce, fresh fish and seafood particularly the huge Mangrove Crabs, which are speciality. For private dining and fine wines there is a wine cellar.


See more details...
Amenities
Air Conditioning
Beach Front
Boutique
Ceiling Fans
Communal Facilities
Infinity edge pool
Internet Access
Plunge Pool
Restaurant
Satellite TV
Sea view
Shared Pool
Sunbeds
Wine Cellar
Wireless Internet
See more details...
Mini bar  - Tea/coffee making facilities  - Sundeck with loungers  - Private undercover deck with daybed
Hammock, outside shower -  Gym in a bag - Kusi Villas
Cliff-top Villa Quilalea – amenities in addition to the above
Nespresso Machine - Extended sitting area  - Private infinity plunge pool
Private dining area with views over sea  - Private alcove for swimming
Bedroom : 1 - 9
Bedroom Types : King
Bathroom : 1 - 9
Staff
Mozambican Butler-host service
Rate
Rates on request.
Please call or message for rates, availability or further information
Availability
December , 2019
| Sun | Mon | Tue | Wed | Thu | Fri | Sat |
| --- | --- | --- | --- | --- | --- | --- |
| 01 | 02 | 03 | 04 | 05 | 06 | 07 |
| 08 | 09 | 10 | 11 | 12 | 13 | 14 |
| 15 | 16 | 17 | 18 | 19 | 20 | 21 |
| 22 | 23 | 24 | 25 | 26 | 27 | 28 |
| 29 | 30 | 31 | | | | |
January , 2020
| Sun | Mon | Tue | Wed | Thu | Fri | Sat |
| --- | --- | --- | --- | --- | --- | --- |
| | | | 01 | 02 | 03 | 04 |
| 05 | 06 | 07 | 08 | 09 | 10 | 11 |
| 12 | 13 | 14 | 15 | 16 | 17 | 18 |
| 19 | 20 | 21 | 22 | 23 | 24 | 25 |
| 26 | 27 | 28 | 29 | 30 | 31 | |
February , 2020
| Sun | Mon | Tue | Wed | Thu | Fri | Sat |
| --- | --- | --- | --- | --- | --- | --- |
| | | | | | | 01 |
| 02 | 03 | 04 | 05 | 06 | 07 | 08 |
| 09 | 10 | 11 | 12 | 13 | 14 | 15 |
| 16 | 17 | 18 | 19 | 20 | 21 | 22 |
| 23 | 24 | 25 | 26 | 27 | 28 | 29 |
March , 2020
| Sun | Mon | Tue | Wed | Thu | Fri | Sat |
| --- | --- | --- | --- | --- | --- | --- |
| 01 | 02 | 03 | 04 | 05 | 06 | 07 |
| 08 | 09 | 10 | 11 | 12 | 13 | 14 |
| 15 | 16 | 17 | 18 | 19 | 20 | 21 |
| 22 | 23 | 24 | 25 | 26 | 27 | 28 |
| 29 | 30 | 31 | | | | |
April , 2020
| Sun | Mon | Tue | Wed | Thu | Fri | Sat |
| --- | --- | --- | --- | --- | --- | --- |
| | | | 01 | 02 | 03 | 04 |
| 05 | 06 | 07 | 08 | 09 | 10 | 11 |
| 12 | 13 | 14 | 15 | 16 | 17 | 18 |
| 19 | 20 | 21 | 22 | 23 | 24 | 25 |
| 26 | 27 | 28 | 29 | 30 | | |
May , 2020
Sun
Mon
Tue
Wed
Thu
Fri
Sat
01
02
03
04
05
06
07
08
09
10
11
12
13
14
15
16
17
18
19
20
21
22
23
24
25
26
27
28
29
30
31
June , 2020
Sun
Mon
Tue
Wed
Thu
Fri
Sat
01
02
03
04
05
06
07
08
09
10
11
12
13
14
15
16
17
18
19
20
21
22
23
24
25
26
27
28
29
30
July , 2020
| Sun | Mon | Tue | Wed | Thu | Fri | Sat |
| --- | --- | --- | --- | --- | --- | --- |
| | | | 01 | 02 | 03 | 04 |
| 05 | 06 | 07 | 08 | 09 | 10 | 11 |
| 12 | 13 | 14 | 15 | 16 | 17 | 18 |
| 19 | 20 | 21 | 22 | 23 | 24 | 25 |
| 26 | 27 | 28 | 29 | 30 | 31 | |
August , 2020
| Sun | Mon | Tue | Wed | Thu | Fri | Sat |
| --- | --- | --- | --- | --- | --- | --- |
| | | | | | | 01 |
| 02 | 03 | 04 | 05 | 06 | 07 | 08 |
| 09 | 10 | 11 | 12 | 13 | 14 | 15 |
| 16 | 17 | 18 | 19 | 20 | 21 | 22 |
| 23 | 24 | 25 | 26 | 27 | 28 | 29 |
| 30 | 31 | | | | | |
September , 2020
| Sun | Mon | Tue | Wed | Thu | Fri | Sat |
| --- | --- | --- | --- | --- | --- | --- |
| | | 01 | 02 | 03 | 04 | 05 |
| 06 | 07 | 08 | 09 | 10 | 11 | 12 |
| 13 | 14 | 15 | 16 | 17 | 18 | 19 |
| 20 | 21 | 22 | 23 | 24 | 25 | 26 |
| 27 | 28 | 29 | 30 | | | |
October , 2020
| Sun | Mon | Tue | Wed | Thu | Fri | Sat |
| --- | --- | --- | --- | --- | --- | --- |
| | | | | 01 | 02 | 03 |
| 04 | 05 | 06 | 07 | 08 | 09 | 10 |
| 11 | 12 | 13 | 14 | 15 | 16 | 17 |
| 18 | 19 | 20 | 21 | 22 | 23 | 24 |
| 25 | 26 | 27 | 28 | 29 | 30 | 31 |
November , 2020
| Sun | Mon | Tue | Wed | Thu | Fri | Sat |
| --- | --- | --- | --- | --- | --- | --- |
| 01 | 02 | 03 | 04 | 05 | 06 | 07 |
| 08 | 09 | 10 | 11 | 12 | 13 | 14 |
| 15 | 16 | 17 | 18 | 19 | 20 | 21 |
| 22 | 23 | 24 | 25 | 26 | 27 | 28 |
| 29 | 30 | | | | | |
December , 2020
| Sun | Mon | Tue | Wed | Thu | Fri | Sat |
| --- | --- | --- | --- | --- | --- | --- |
| | | 01 | 02 | 03 | 04 | 05 |
| 06 | 07 | 08 | 09 | 10 | 11 | 12 |
| 13 | 14 | 15 | 16 | 17 | 18 | 19 |
| 20 | 21 | 22 | 23 | 24 | 25 | 26 |
| 27 | 28 | 29 | 30 | 31 | | |
January , 2021
Sun
Mon
Tue
Wed
Thu
Fri
Sat
01
02
03
04
05
06
07
08
09
10
11
12
13
14
15
16
17
18
19
20
21
22
23
24
25
26
27
28
29
30
31
February , 2021
| Sun | Mon | Tue | Wed | Thu | Fri | Sat |
| --- | --- | --- | --- | --- | --- | --- |
| 01 | 02 | 03 | 04 | 05 | 06 | 07 |
| 08 | 09 | 10 | 11 | 12 | 13 | 14 |
| 15 | 16 | 17 | 18 | 19 | 20 | 21 |
| 22 | 23 | 24 | 25 | 26 | 27 | 28 |
March , 2021
Sun
Mon
Tue
Wed
Thu
Fri
Sat
01
02
03
04
05
06
07
08
09
10
11
12
13
14
15
16
17
18
19
20
21
22
23
24
25
26
27
28
29
30
31
April , 2021
| Sun | Mon | Tue | Wed | Thu | Fri | Sat |
| --- | --- | --- | --- | --- | --- | --- |
| | | | | 01 | 02 | 03 |
| 04 | 05 | 06 | 07 | 08 | 09 | 10 |
| 11 | 12 | 13 | 14 | 15 | 16 | 17 |
| 18 | 19 | 20 | 21 | 22 | 23 | 24 |
| 25 | 26 | 27 | 28 | 29 | 30 | |
May , 2021
| Sun | Mon | Tue | Wed | Thu | Fri | Sat |
| --- | --- | --- | --- | --- | --- | --- |
| | | | | | | 01 |
| 02 | 03 | 04 | 05 | 06 | 07 | 08 |
| 09 | 10 | 11 | 12 | 13 | 14 | 15 |
| 16 | 17 | 18 | 19 | 20 | 21 | 22 |
| 23 | 24 | 25 | 26 | 27 | 28 | 29 |
| 30 | 31 | | | | | |
June , 2021
| Sun | Mon | Tue | Wed | Thu | Fri | Sat |
| --- | --- | --- | --- | --- | --- | --- |
| | | 01 | 02 | 03 | 04 | 05 |
| 06 | 07 | 08 | 09 | 10 | 11 | 12 |
| 13 | 14 | 15 | 16 | 17 | 18 | 19 |
| 20 | 21 | 22 | 23 | 24 | 25 | 26 |
| 27 | 28 | 29 | 30 | | | |
July , 2021
| Sun | Mon | Tue | Wed | Thu | Fri | Sat |
| --- | --- | --- | --- | --- | --- | --- |
| | | | | 01 | 02 | 03 |
| 04 | 05 | 06 | 07 | 08 | 09 | 10 |
| 11 | 12 | 13 | 14 | 15 | 16 | 17 |
| 18 | 19 | 20 | 21 | 22 | 23 | 24 |
| 25 | 26 | 27 | 28 | 29 | 30 | 31 |
August , 2021
| Sun | Mon | Tue | Wed | Thu | Fri | Sat |
| --- | --- | --- | --- | --- | --- | --- |
| 01 | 02 | 03 | 04 | 05 | 06 | 07 |
| 08 | 09 | 10 | 11 | 12 | 13 | 14 |
| 15 | 16 | 17 | 18 | 19 | 20 | 21 |
| 22 | 23 | 24 | 25 | 26 | 27 | 28 |
| 29 | 30 | 31 | | | | |
September , 2021
| Sun | Mon | Tue | Wed | Thu | Fri | Sat |
| --- | --- | --- | --- | --- | --- | --- |
| | | | 01 | 02 | 03 | 04 |
| 05 | 06 | 07 | 08 | 09 | 10 | 11 |
| 12 | 13 | 14 | 15 | 16 | 17 | 18 |
| 19 | 20 | 21 | 22 | 23 | 24 | 25 |
| 26 | 27 | 28 | 29 | 30 | | |
October , 2021
Sun
Mon
Tue
Wed
Thu
Fri
Sat
01
02
03
04
05
06
07
08
09
10
11
12
13
14
15
16
17
18
19
20
21
22
23
24
25
26
27
28
29
30
31
November , 2021
Sun
Mon
Tue
Wed
Thu
Fri
Sat
01
02
03
04
05
06
07
08
09
10
11
12
13
14
15
16
17
18
19
20
21
22
23
24
25
26
27
28
29
30
Location
Azura Quilalea Private Island. Mozambique,Indian Ocean
Other Properties you may like