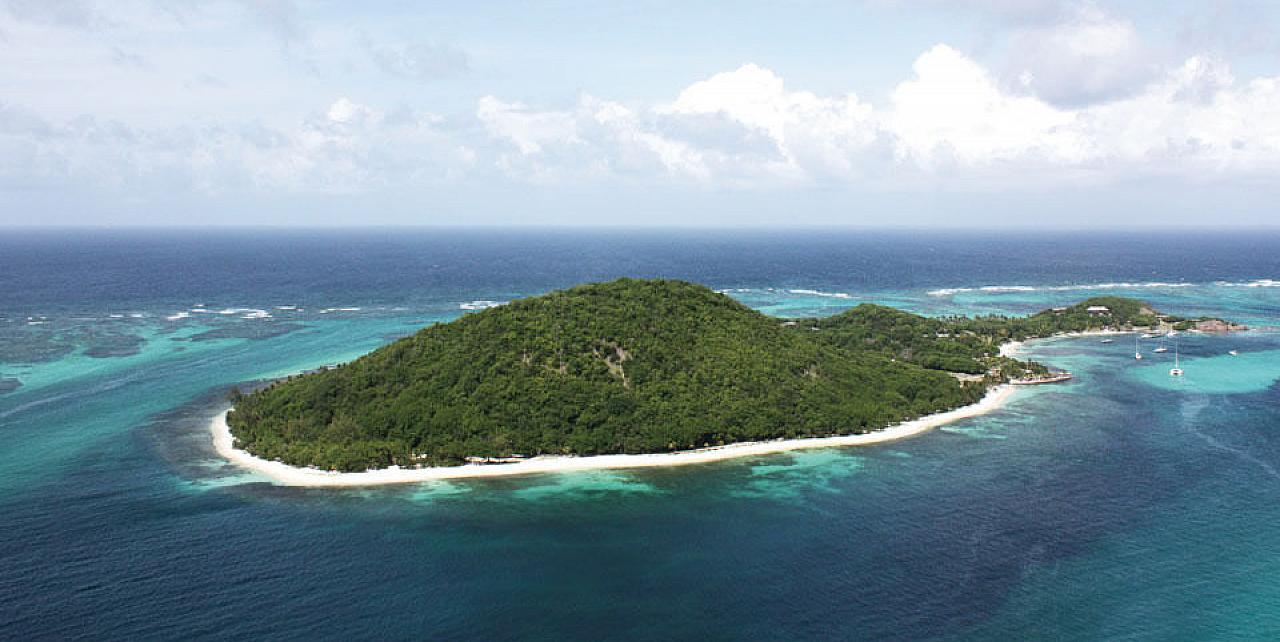 Add to Favourites
Plan Your Trip
HAVE QUESTIONS?
UK : 0845-017-6707
USA/CANADA: +1 347 707 1195
BARBADOS: +246-432-6307
INTERNATIONAL: +44 1978 368531
Petit St Vincent is better known locally as PSV. It lies 40 miles south of St. Vincent. Petit St Vincent is a paradise island spread over 15 acres of softly rolling hills and lush landscape.
Under new ownership and management this hidden gem is ready for the limelight once again.

PSV is surrounded by over a mile of white pristine sand beach. It is the perfect retreat for that special occasion. You will create memories that will last a lifetime here. Whether it be a honeymoon, special birthday or other celebration let PSV make it the best it could be.
This idyllic retreat has a huge range of water activities to enjoy. There is swimming, windsurfing, snorkelling, sailing and diving. There are beach cabanas and sea-side room service.
On the island are 22 newly renovated cottages. These are either one or two bedroom cottages. They are spread out across the island for maximum privacy and comfort. Local materials have been used and the cottages all have modern fittings but they blend seamlessly into their island surroundings.
The unique flag communication system adds charm to the attentive and unobtrusive service. If you would like a cup of tea or any other beverage just raise the flag outide your cottage for service.
There is tennis day and night, colourful Caribbean cocktails and the finest island cuisine.

PSV is perfect for romantic couples or families who want private time to themselves.
If you want to leave the island you can ask PSV to arrange for a catamaran to take you to one of the lovely atols sitting in the turqoise clear waters . Enjoy a sail in the turqouise Tobego Cays and maybe stop for a barbeque en route.
In 2011 PSV added a new beach restaurant and bar, a hillside spa and a wine cellar.
Lying well off the tourist mainstream this wonderful private island can best be described by what is not there.
There is no airport, no formal check in, no keys. There are no televisions nor are there telephones in the cottages.
Guests arriving at Union Island airport (usually from Barbados) are escorted to the dock for a short 20-minute private boat ride to the island.

Above all, however, there is privacy, relaxation and attentive service. Here, amid untouched nature and surrounded by warm, crystal-clear, turquoise water, one senses that the island is one's own.

The truly hermitic guests don't have to meet another visitor. Room service is available for all meals either in your own cottage or at any other location on the island. Many guests however, choose to make use of the island's beautiful bar and dining room. You will also enjoy the beach bar and restaurant. Here you can enjoy meals overlooking the turquoise Caribbean Sea. Those who wish to socialise may do so here.
The beach restaurant at Petit St Vincent offers fresh, mostly grilled island cuisine as well as comfort foods. The beach bar serves speciality cocktails in a shaded, laid back setting overlooking the main anchorage.
Prices quoted usually include all meals, non-alcoholic beverages and non-motorised water sports.
See more details...
Special Offer(s):
50% DISCOUNT!
Stay for 5 nights or more and book 4 cottages on the private peninsula on the east side of the island (cottages #16, #17, #18 and #19) and enjoy a special discount of 50% off the 4th cottage.
Rates include 3 meals daily, non-alcoholic beverages, early morning coffee and afternoon tea, room service, non-motorized water sports, a complimentary day trip to the Tobago Cays Marine Reserve, and a private beach BBQ Dinner with personal chef
Amenities
Bedroom : 1 - 2
Bathroom : 1 - 2
Location
Petite St Vincent, St Vincent & The Grenadines